Tanzanite Diamond Ring [RG225]
When you talk about a tanzanite diamond ring, you would normally expect the tanzanite gem to have a very conventional shape. Indeed, tanzanite rings with diamonds generally use a round, oval or rectangular tanzanite gem. Not many jewelers venture to make a highend tanzanite diamond ring, with a marquise shaped gemstone. The challenges in making a fine and sturdy, marquise gem stone are too much for most jewelers to handle. The RG225 yellow or white gold tanzanite gemstone ring, is a breakthrough in designing, constructing and crafting marquise gemstone rings. The reasearched design of this gemstone ring, offers beauty, grace and durability to the jewel.

In this brief report, we will talk about the features of the ring. We wish to keep sales talk out of the scene and encourage you to visit our regular website at the link provided below, if you wish to make a purchase or related query. The idea of compiling this report was to prove that, it is very possible to make a longlasting gemstone ring with a marquise shaped gem. The stone need not always be a tanzanite, the ring need not always be made in gold. The information we provide would be equally applicable to a gold or 925 sterling silver diamond tanzanite ring.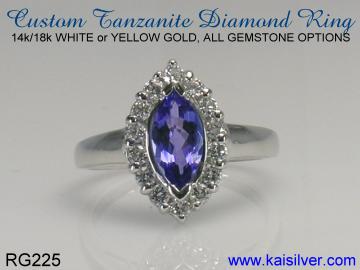 This tanzanite diamond ring has become so very popular that, many of you might not give a thought to it's design concept and structure. While diamonds did add class and style to the ring, you would be pleasantly surprised to know that the glittering stones also help enhance the overall durability of the tanzanite ring. To explain this, we might need to get into a bit of detail but, we assure you that it will be time well invested.

A marquise shaped tanzanite or any other gem for that matter, is bound to be a bit thin on the sides. This is how gems are cut, to give the best glitter when light strikes the gem from above. Leaving the edges of the gem exposed would have made the stone being damaged by side impact. And if we decided to border the gem with metal, in this tanzanite ring, many fashion concisous buyer would say that 'hid' a part of the gems beauty. You will notice that the ends of the marquise gem in this tanzanite diamond ring, are 'capped' in gold. This protects the points from breaking or chipping. You might think that this was quite a simple feature but, it really is not so. Marquise gems like tanzanite, need to be very carefully set - a bit of extra pressure by the gem setter and the pointed edges could crack. At the same time a loose gem setting would mean that, the stone might drop off and get lost. Even when the most experienced gem craftsmen are deployed, the rate of marquise gems breaking during the crafting (gem setting) stage are quite high.

Now to the issue of about the diamonds increasing the strength of this tanzanite diamond ring. The row of glittering diamonds that border the marquise tanzanite gem, protect the borders of the gem. This largely reduces the chances of the gem being damaged by side impact. The diamonds ofcourse help to highlight the beauty and clarity of the center tanzanite gem too. So what has actually happened with the diamonds is that, they do much more than just look good.

Yes the diamonds in this tanzanite gold or silver ring do add to the price point but, we wished to demonstrate how a diamond tanzanite ring with a marquise shaped gem could be durable and sturdy. Still on the issues of diamonds and cost, we do have some interesting suggestions to make. You could retain all the pomp and style of this tanzanite gemstone ring and choose to replace the diamonds with white sapphires. Keep in mind that, white sapphire gems are an excellent substitute for diamonds. They are natural gems and almost as hard as diamonds, and they do cost a lot less than diamonds.

Another question that is often asked is whether, tanzanite gold rings look good in yellow gold. Here is the complete truth, the color and color saturation of the tanzanite would be crucial to how it looks in yellow gold. The marquise tanzanite gem that you see in the RG225 tanzanite diamond ring has a fine color and medium saturation. This is also the most popular color shade preferred by most Tanzanite lovers. One thing about this color is that, it looks amazing in a yellow gold or white gold tanzanite ring. And if you fancy a rose gold (pink gold) tanzanite gemstone ring, this is the gem color and shade that you should aspire for. So what would happen if the tanzanite was very dark in color. Well such a deep color saturation, does not allow the light reflections (on the facets) to be clearly visible from the top of the stone - you could say that a very dark tanzanite gem would actually 'swallow' up all the light.

This is surely a fine tanzanite diamond ring so, would it be suitable for a tanzanite wedding or engagement ring. The answer is a very big YES. You can choose this tanzanite gemsotone ring as a special occasion ring too. The color of the gem, the diamonds and the fact that marquise shaped tanzanite jewels are not very common makes this a very exclusive jewel.
And what if you wanted to have this tanzanite ring made as sterling silver tanzanite and diamond ring. Though many highend jewelers would not want to 'waste' their time with a silver jewelry buyer - we welcome your decision. You can have your 925 silver or gold tanzanite diamond ring the same quality of tanzanite gem, design, diamond quality AND craftsmanship. Silver jewelry appeals to millions of jewelry lovers across the globe. It has a classic and calm look and feel that gold cannot match.
As a piece of general advice we would like to mention that, medium color tanzanite is generally preferred over light or very dark tanzanite colored shades. At Kaisilver we let you decide on the color shade for the gemstone since, we handpick and custom cut every stone.
The Kaisilver Tanzanite Diamond Ring Collection, showcases some gorgeous designs that are crafted with, handpicked gems and fine craftsmanship. We provide the same quality for both gold and 925 silver tanzanite diamond rings, so make your choice based on your preference an budget. If you choose to order a tanzanite diamond ring, open your mind to black diamonds, blue diamonds and yellow diamonds too. Natural diamonds that have been treated to enhance their color, to attractive color shades, are reasonably priced.
The above report has been compiled to educate you regarding various issues related to tanzanite diamond rings. You will be glad to know that we can provide this ring or any other jewel, in gold or 925 sterling silver with the design and gemstones of yoru choice. You are welcome to send us your comments, queries and requirements at sales@kaisilver.com If you wish to get details abou this ring or order the jewel, please visit our regular website at http://www.tanzanite.kaijewels.com/tanzanite-ring-kj-07.htm