Gemstone Rings, Enhancing Meaning And Appearance Of Gold And Silver Rings.
As the name suggests, a gem stone ring is a ring with one or more gems set in it. You can have gold or sterling silver gem stone rings. It is interesting to know the reasons and way in which jewelry lovers choose the gem for their ring. Most gemstones have some color though, certain gems like white topaz, white sapphire and danburite are transparent white. A large proportion of jewelry buyers choose a gem stone ring based on the color of the gem set in the jewel. So if you were to love the color blue, you might choose a blue topaz, a blue lapis, blue sapphire or some other gem with a blue color shade. The color of the gem in a ring could be your favorite color or, it could be a color that you feels best matches your dress attire.
There is another important reason why people choose particular stones in their gold or 925 silver gemstone rings. For many centuries, people have believed in the properties and special powers of certain gem stones. For example wearing a carnelian ring is supposed to make a person feel calm and composed. Wearing a bloodstone ring is supposed to help blood circulation. The belief in birthstones is also born from a similar tradition. In this case, the color of the gem is not the main attraction to the buyer, the importance is in the birth stone. So a person born in the month of April would wear a diamond ring as a birthstone jewel. The March birth stone is Aquamarine, so you can expect a person born in March to wear an Aquamarine gem stone ring.
The use of gems in rings is not limited only to casual wear rings. Special occassion rings like wedding and engagement rings also use diamonds and other stones. In this case, the significance of a diamond is high. Diamonds are the hardest stones used in jewelry, they represent the 'last forever' theme. And since it is expected that every marriage will last forever, using a diamond in a wedding or engagement ring is very appropriate. Wedding rings have recently followed a new trend, the practice of exchanging birthstones. In this case the husband and wife wear each other's birth stone in their wedding or engagement ring. This is beleived to build a stronger bond between the two, it also helps them feel close even when they are separated by a large geographical distance.
Emerald Rings. This is a type of green beryl and has been known to mankind for thousands of years. At one point of time in history, every green stone was thought to be an emerald. The interesting thing about this stone is that all emeralds have natural inclusions and fissures. These are visible to the naked eye and will be present in emeralds of all types, shapes and grades. So when you buy an emerald gemstone ring, expect to find these interesting and unique 'birthmarks' in the stone.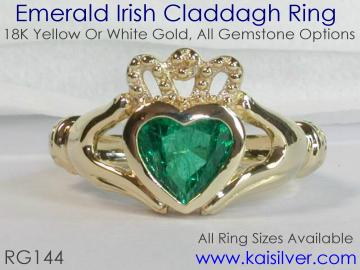 The RG144 is a custom claddagh ring with emerald gem stone from Kaisilver. See the complete emerald ring collection and learn to evaluate emerald gem stone rings before making a purchase.
Amethyst Rings Your amethyst ring would have the purple amethyst gemstone. This gem can be found in three shades of purple, light, medium and very dark purple. The medium purple color is the most popular choice for amethyst gem stone rings. Amethyst is the February birth stone and suitable for ladies and men's gemstone rings.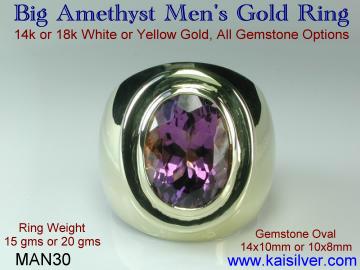 The MAN30 mens amethyst gemstone ring has a medium purple amethyst gemstone. Kaisilver custom makes all jewelry with all gem stone options. You can therefore choose a gold or 925 sterling silver amethyst ring. We have an awesone amethyst ring collection for you to choose from. We can ofcourse custom make all gemstone rings with your designs too.
Custom gemstone rings bring you many advantages. Some of these are durability, flexibility and customization. For example, you can pick the design of a gold gem stone ring and request for the same ring to be custom made in sterling silver. The jeweler needs to satisfy only you and need not worry about mass markets, this allows a highend jewel to be produced without compromises that could affect durability of the ring.
Tanzanite Rings. This gem stone is unique in the sense that, it is mined in only one country in the world and that is Tanzania. The gem stone is a blue-violet stone and can be grouped in the 'expensive gems' category. You can find very pale color tanzanite at fairly inexpensive prices but such gems are quite dull and lifeless.
Kaisilver procures rough Tanzanite from the miners in Tanzania. Each piece is carefully inspected before being custom cut as required for our custom jewelry orders. The important thing is that we do not need to work with a limited inventory, this ensures that you get the best value for your Kaisilver tanzanite ring.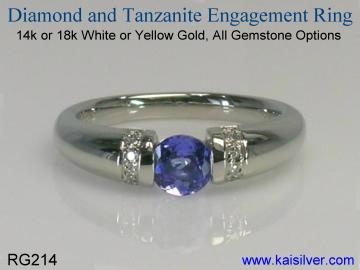 The RG214 is a gorgeous 14k or 18k white gold Tanzanite diamond ring. This ring has a streamlined and elegant look, it is supported by a healthy metal weight which helps increase longterm durability. The fact that the tanzanite gem in this gold ring is not too large, works to your advantage. You can get a good quality gem at a very moderate price.
An impressive mens tanzanite gem stone ring. The MAN61 custom tanzanite ring for men has glitter and style. We at Kaisilver realize that it takes more than just good looks to create a highend jewel. We have therefore spared no effort in designing or crafting this handsome mens gem stone ring. You can choose a 14k or 18k tanzanite men's ring, yellow and white gold tanzanite gem rings are priced the same.
When it comes to gems like rubies, sapphires and tanzanite there are grade options for you to choose from. Kaisilver gems and jewels are put through some of the toughest quality control checks. It is very common for our gem experts to classify a gem as "A" grade when many other jewelers would have passed a very similar gem in the AA or even AAA category. You can therefore discuss your requirements with our support team before making a purchase.